Fabian Kapfhamer, Attorney at Law (LL.M) in Frauenfeld Switzerland
Attorney at Law (LL.M), Fabian Kapfhamer is considered to be one of the most solution-oriented attorneys who fully devotes his resources to the service of his clients in the field of Swiss and international law.
Commercial and Contract Law:
Mr. Fabian Kapfhamer has considerable professional expertise in the drafting and reviewing of all commercial law contracts, such as purchase agreements (including company purchase agreements), service agreements, license agreements and distribution agreements (also cross-border) as well as the drafting of general terms and conditions (GTC).
---
Corporate Law:
As a corporate lawyer, he offers comprehensive support in the preparation, planning and formation of stock corporations or limited liability companies, the drafting of shareholders' agreements and all issues of corporate governance, compliance and reorganization. In addition to providing comprehensive legal advice, attorney at law Fabian Kapfhamer will gladly offer companies overall solutions for their legal department and take on board of directors mandates.
---
Intellectual property:
If you require protection for a trademark, a design or a patent, he will gladly provide you with support, e.g. in filing applications both in Switzerland and abroad. Thanks to his extensive knowledge of intellectual property law, he can likewise lend you a hand with any questions you may have about copyright and competition law, and formulate perfect licensing and software agreements for you.
---
University and higher education in Switzerland:
University of Zurich

Achievement from english speaking university abroad:



Master of Law in corporate and commercial law, London University
Years of experience:

Over 20 years of professional experince
---
Languages

:
German, English, French

Membership:



Specialist attorney SAV labor law
Registered in the Bar Register of the Canton of Thurgau
Expertise:


Corporate law
Labor law
IT law
Contract for work and services and contract law
General contract law

Hauptstrasse 39
8280 Kreuzlingen
Tel: (+41) 071 678 10 10
---
Proof of English Proficiency:
Master of Law in corporate and commercial law, London University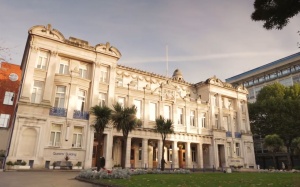 ---