Vincent Perritaz – Doctor of law, Attorney-at-law in Fribourg – English Speaking Lawyer in Switzerland
Vincent Perritaz provides his clients with a wide range of legal expertise in the field of construction (companies, architects, engineers) and with federal, cantonal and municipal administrative authorities. In particular, he represents his clients in all proceedings, whether civil, administrative, criminal or arbitration, with the best possible outcome for his clients.
University and higher education in Switzerland:



University of Fribourg (Master of Laws)
Doctorate in Law, University of Fribourg
Achievement from english speaking university abroad:
Georgetown University Law Center, Washington DC (USA)
Center for Transnational Legal Studies (CTLS), London (UK)
Years of experience:
Over 13 years of professional experince
Languages:



English, French and German
Membership:



Bar Association of the Canton of Fribourg
Expertise:
Civil liability and private insurance law
Business and commercial law
Economic criminal law
Real estate and construction law
Land use planning law
Public procurement law
Civil, criminal and administrative proceedings
Contact:



21, Boulevard de Pérolles
Case postale
CH-1701 Fribourg
Tel: +41 (0)58 123 08 00
---
Proof of English Proficiency:
Georgetown University Law Center, Washington DC (United States)

Command of the English language is a pre-requisite for participation. Student's minimum English proficiency requirements are: TOEFL 100/250/600; IELTS 7.0. All non-native English speakers are strongly urged to submit proof of Document proof of their English proficiency as part of their application. This proof can be in the form of TOEFL or IELTS test scores, a high school transcript from an educational institution where English is the
Georgetown University

Law Center, Washington DC (USA): The Georgetown University Law Center, often known as Georgetown Law, is located near the heart of the American federal government in Washington, D.C. Georgetown Law, in Washington, D.C., has one of the most well-established graduate programs in the United States.
Students can earn certificates in:



International Taxation
Employee Benefits
Estate Planning
State and Local Taxation
International Arbitration and Dispute Resolution
Securities and Financial Law
WTO Studies
International Human Rights Law
Refugees and Humanitarian Emergencies.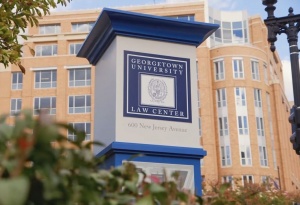 ---